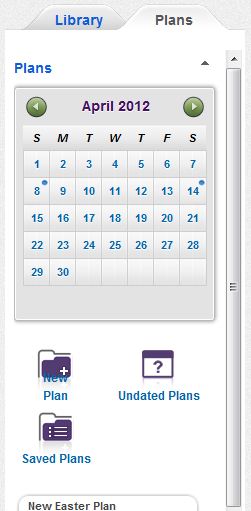 Plans are where you assemble the works you want, for an occasion, a season, or just as a collection. Within a Plan you can put anything you've found in the Prelude Library, from My Church's Library, or from My Library. You can even add items on the fly. Plans can be dated, but they don't have to be (create a "Plan" for keeping ideas, or for an upcoming season, for weddings or funerals, or…)
Tools at the top of the panel
The calendar at the top of the Plans panel works the same way as the calendar on the Home Page. Use this to filter the Plans displayed below, by month. Below the calendar are several tools:
The New Plan tool starts a new plan, of course. You be given a simple form to fill in. Title is the only required information.
Undated Plans allows you to see a list of Plans that you haven't assigned to a date.
Saved Plans allows you to filter the list of Plans shown below, by general date, or by Musician. You can also search for a Plan (looking for your last Ash Wednesday plan?). Click on "Hide Saved Plans" just below these fields to close this area.
Musicians panel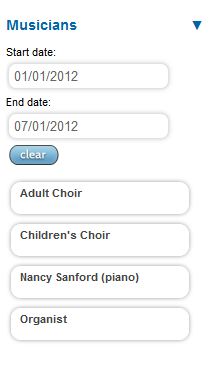 Below your list of Plans is "Musicians," in blue, with an arrowhead. Click on the word or the arrow to unfold this panel.
This is cool. Choose a start date and an end date, and which Musician you want to filter your Details view with. Now you'll see a list, on the right, of the musical works that this musician is assigned to during the date range you chose. Click on the "Download List" button at the top of the list on the right to get an editable text-document version of this list to your computer; use this for email, printing and posting, or whatever.
Working with Plans
To view the contents of any Plan, simply click on the plan in this left-hand panel. Work with the contents in the Plan Details area on the right.