Planning

/

How do I create a list of music for my choir for this season?
So you need a list of the music that one of your choirs is preparing for the next season? Prelude makes that a snap!
Use the Planner to create a Plan for each upcoming service, adding the right date to each Plan. Be sure to add the right Musicians to each musical work in your Plans.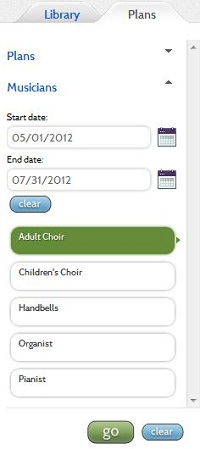 Now, on the Plans tab, at the bottom (scroll down), you'll see the word "Musicians". Click on this, and you'll get new tools to view the planned music for any Musician, in a given time frame.
Choose the starting date and ending date for the list you want to create, using those two fields here. Then, choose any one of the Musicians shown and on the right you'll see all of the musical works assigned to that Musician during that time period. Click on the Download List button and you'll get a text document listing it all out for you.
Use this in your rehearsal room, in email notices or newsletters or handouts. Easy and accurate!