The Casual Version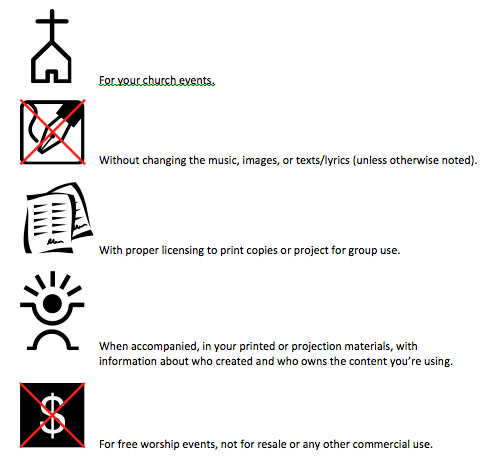 The Legal Version
Welcome to Prelude Music Planner. Your membership has been arranged by your church with Augsburg Fortress (the "Publisher") to give you access to texts, music, and other items on the PRELUDE Web site ("Materials"). This registration section contains some information and rules for all users of Prelude. The PRELUDE website allows PRELUDE users from your congregation to share materials with you, including basic contact information. The use of any personal information collected by the PRELUDE Web site is governed by the Publisher's Privacy Policy.
AUTHORIZED USES
By using the site, you, like other authorized users, will have permission to do the following with Materials on the PRELUDE website:
1. Download the Materials, including texts, music, and other Materials.
2. Print or project the number of copies of a downloaded item that you have either purchase with Points or have reported to the appropriate copyright administrator.
3. Publicly perform certain Materials at events sponsored by your church.
UNAUTHORIZED USES
All other uses, besides the above Authorized Uses, are retained by the Publisher and are subject to separate permission. You agree not to do any of the following:
1. Distribute any PRELUDE Web site Materials outside of your church.
2. Translate any portion of the PRELUDE Web site into any other language.
3. Post PRELUDE Web site Materials on another Web site.
4. Any other use not specifically authorized.
The Publisher may terminate the church's license or deny access to specific users at its sole discretion if any of the above occurs.
ASSIGNMENT OF THIS LICENSE
Your church has received the right to create multiple logins for use by members of your church. The rights granted by the church's license are not transferable to any other individual, church, congregation or organization without written permission from the Publisher.
DURATION OF THIS LICENSE AND AUTOMATIC RENEWAL
Unless your church has purchased a license for a special term, PRELUDE licenses are annual, and license renewal is automatic. Your church may cancel its license at any time, but this cancellation takes effect at the next renewal of your license period.
PARENTAL OR GUARDIAN PERMISSION
Children under the age of 13 are not permitted to use the PRELUDE Web site, unless the church obtains and keeps on record verifiable permission from a parent or guardian. This is in accordance with the Children's Online Privacy Protection Act. We strongly recommend that children between the ages of 13 and 18 ask for their parent's or guardian's permission before using our Web site.
FEEDBACK
You hereby grant Augsburg Fortress and its affiliates, partners or representatives the right to contact you during and after the Term to obtain feedback from you regarding your experience during your Membership and your opinions or suggestions regarding the PRELUDE Web site. You hereby represent and warrant that all information provided to Augsburg Fortress at the time of registration for the PRELUDE Membership is complete, true, and correct.
LIMITATION OF LIABILITY
When using the PRELUDE Web site, information may be transmitted that is beyond the control of Publisher and Publisher assumes no liability for or relating to the delay, failure, interruption or corruption of any data or other information transmitted in connection with use of this program or web site. Access to and use of this web site and content is provided on an "AS-IS" basis. PUBLISHER DISCLAIMS ALL WARRANTIES, EITHER EXPRESS OR IMPLIED, INCLUDING BUT NOT LIMITED TO THE IMPLIED WARRANTIES OF MERCHANTABILITY, TITLE, NON-INFRINGEMENT OF THIRD PARTIES' RIGHTS, AND FITNESS FOR A PARTICULAR PURPOSE. PUBLISHER MAKES NO REPRESENTATION OR WARRANTY AS TO WHETHER THE INFORMATION ACCESSIBLE VIA THIS WEB SITE, OR ANY SITE TO WHICH IT IS LINKED, IS ACCURATE, COMPLETE, OR CURRENT. In no event shall Publisher be liable for any damages (including, without limitation, incidental and consequential damages, money damages, lost data, or damage to your computer system due to viruses or other defects), whether such claim is based upon warranty, contract, tort, or any other legal theory, and whether or not Publisher is advised of the possibility of such damages.
By continuing into the site you are agreeing to the foregoing terms.
PRIVACY POLICY
These Terms of Use also include our Privacy Policy, found here.